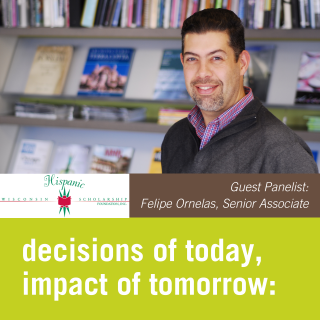 Decisions of Today, Impact of Tomorrow
Become an Agent of Change for a Brighter Future
Milwaukee, Wisconsin – Architect Felipe Ornelas will be a guest speaker at the 2016 Wisconsin Hispanic Scholarship Foundation Forum.  At this event a number of Hispanic professionals from diverse industries will be in attendance to educate attendees/students and parents on their services as well as provide educational, employment and internship opportunities. Bringing these resources and the wisdom of different organizations and professionals, this forum is geared toward widening and expanding the foundation's goal of:
Helping students choose careers in industries where high level positions are underrepresented by Hispanic men and women
This year our Forum will take place on Saturday, April 16th, at Alverno College located at 3400 S. 43rd St. Milwaukee WI 53234 (Rotunda Galleria) from 11:00am to 4:00pm.
Download Event Flyer
---
Felipe Ornelas, Senior Associate
Engberg Anderson Architects
For Felipe Ornelas, his success stems from giving back to the community that gave him opportunities. Inspired by architecture that meets at the intersection of health, culture and community, Felipe works with clients who provide community services, including supportive housing and neighborhood health clinics. Through projects such as the Sixteenth Street Community Health Center and over ten local housing developments, he has helped build a more robust community.
Learn more about Felipe's path to success