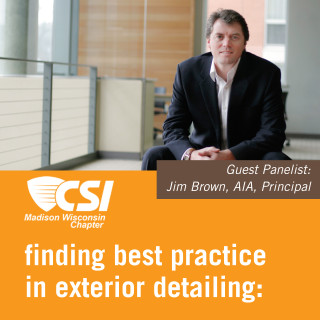 Finding Best Practice in Exterior Detailing
Join architect Jim Brown, AIA and Principal of Engberg Anderson – Madison at the CSI: Madison chapter event on exterior detailing. Panelist's will discuss a variety of topics including:
Defining Best Practices in Detailing
Resolving Conflict in Aesthetics
How Form Impacts Function
Value of Mock-ups & Control Samples
Evaluating Material Performance
Determining How Well Facades Age
Think, Perform, & Deliver as a Team
Event Details:
When:
Social Hour: 5:00 pm to 6:00 pm
Dinner: 6:00 pm to 7:00 pm
Program: 7:00 pm
Where: Vintage Brewery, 674 South Whitney Way, Madison, WI.
Cost: $25 members,/guests, $7 Students Cost includes dinner. Please indicate any dietary needs.
Or visit CSI Madison for more information.
---
About Construction Specifications Institute
Construction Specifications Institute (CSI) was founded in March 1948 by the specification writers of government agencies who came together to improve the quality of construction specifications. The Institute's efforts were essential in improving construction specification quality so that it could meet the demands of the post-war construction boom. Development of specifications best practices, promulgating standards/formats, professional education, and certification were cornerstones of the Institute.