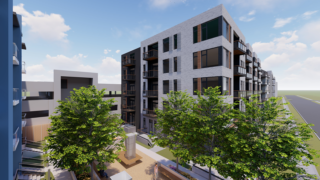 GLENDALE, Wis., Oct. 27, 2021 /PRNewswire/ — Cypress Residential Development, in partnership with North American Development Group, recently purchased four acres on the edge of Bayshore Town Center in Glendale WI to construct a 400,000-square foot luxury apartment complex. The complex will consist of four apartment buildings with 311 units consisting of studio, one, two and three bedrooms.
"We at Cypress are so proud of what we have achieved at Bayshore. It's much more than a shopping destination–it's a true mixed-use village. With the addition of high-end residential, Bayshore will reach its full potential as a multi-dimensional community and will appeal to a range of residents from Milwaukee's North Shore and beyond," said Cypress CEO, Chris Maguire.
Engberg Anderson Architects is the architect and interior designer, Graef provided the landscape design and civil engineering services, and Stevens Construction Corp is the general contractor. The apartments will break ground immediately with an anticipated completion date in the summer of 2023.
Read full article on wistv.com