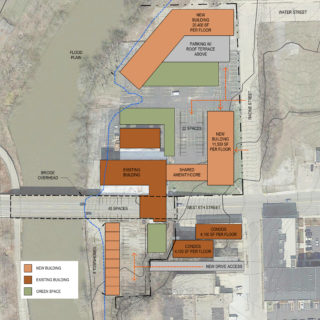 FOR IMMEDIATE RELEASE
Racine, WI – Working closely with the City of Racine, Inspired Real Estate Developers, LLC has proposed the Edge of the River Community Development – the anchor project for Racine's Machinery Row. The development will house approximately 300 residences in three to seven buildings, including the redevelopment of existing buildings on the site, the construction of two new residential/retail buildings and new riverfront townhomes.
Tannery will be the first building for the Edge of the River Community. Once housing the Eisendrath Tanning Company, Tannery will be the redevelopment of the historic 1920's factory into a new living option for downtown Racine. Residents will be able to pick from a mix of micro (400 sf) to three-bedroom units. The revitalized building will emphasize the unique beaming structure, ceilings and hardwood floors incorporated into a modern, loft-style aesthetic. With spectacular river views and a unique part of the building actually built into the bridge structure, the first building will offer amenities not found currently in Racine.
Peridot Construction Management has been selected to oversee the entire Edge of the River Community with Engberg Anderson Architects leading the design of this anchor project for Racine's prime Machinery Row urban riverfront development.
---
About Engberg Anderson Architects
Engberg Anderson Architects, founded in 1987, has been a leader in Metro Milwaukee's multifamily housing design since its inception. The 40 person firm brings together a depth of diverse architectural, interior design and planning experience. Their offices are in Milwaukee and Madison (WI), Tucson (AZ), and Chicago (IL). For more information, please visit www.engberganderson.com.
About Peridot Construction Management
Peridot CM, LLC was founded in 2011 and has emerged as a specialist in large-scale residential construction, with over 900 residential units completed or currently under construction. This extensive multifamily and general construction experience will provide you with the knowledge and attention required to ensure a successful outcome for your project. http://peridotcm.com/
###
Media Contact
Lauren Kritter, Marketing
(414) 944-9000
laurenk@engberganderson.com