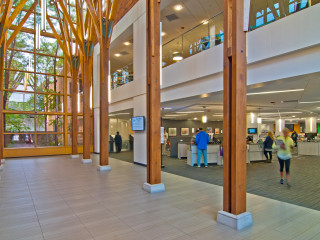 Chicago, IL – Due to the success of Engberg Anderson's new Chicago office over the last year, the firm is moving to a new office space. Acknowledging years of collaboration with clients throughout northern Illinois and continuing growth across the region, the architectural firm Engberg Anderson opened a Chicagoland location in 2014. Partner Joseph Huberty, AIA and Senior Associate Shaun Kelly, AIA led the expansion.
"We pride ourselves on quality client service, and this move makes it easier to maintain and extend that standard," says Joe. "This offers the reassurance of proximity to go along with the wide range of services we provide to the Illinois, Indiana and western Michigan markets."
Earlier this year, Nathan Van Zuidam, Architectural Designer, joined the team. As of August 3, 2015, Joe, Shaun and Nathan have moved to a larger space at 5600 N River Rd, Ste 819, Rosemont, IL 60018. The phone number remains the same at: (847) 704-1300
---
Founded in 1987, Engberg Anderson is an architecture, planning and interior design firm whose work supports activities and institutions at the heart of a vibrant culture. With offices in Milwaukee, Madison, Chicago and Tucson, the firm specializes in housing, mixed-use, libraries, cultural, corporate, healthcare, senior living, higher education, historic preservation and sustainable design.