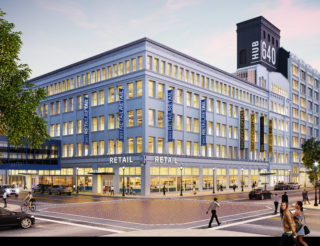 Bon-Ton was relegated to the dust bin of corporate history in 2018, but the department store chain left behind a lot of real estate.
While shopping mall owners work to repurpose the windowless boxes once inhabited by department stores, downtown Milwaukee was left with something entirely different: an empty office building at 640 N. Vel R. Phillips Ave.
Chicago-based North Wells Capital acquired Bon-Ton's headquarters in 2017, with the retailer's flagship Boston Store department store on the first two levels. The real estate firm was working with Bon-Ton to consolidate its office and retail footprint in the building when the company filed for bankruptcy. Prior owner WisPark had already worked with the Mandel Group to convert the top of the eight-story building to apartments.
The liquidation of the retailer, which employed approximately 750 people in the building as of 2017, sped up a redevelopment plan. The building was rebranded HUB640 and gutted.
Engberg Anderson Architects was tasked with designing new spaces for a multi-tenant complex, including a new lobby, conference center, rooftop deck and fitness center. The tenant rooftop deck atop a two-story parking garage and loading dock structure is located on the east side of the building. Much of that buildout has now been completed by contractor Kelly Construction & Design.
Read the full article on Urban Milwaukee