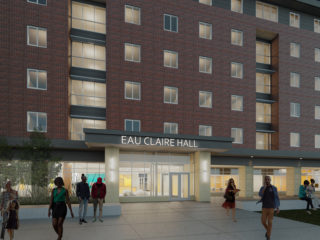 University of Wisconsin Eau Claire brings New Living Options to Campus
Eau Claire, Wisconsin – February 19, 2018 marks the day of the groundbreaking for the University of Wisconsin Eau Claire's new residence hall. It will be the University's first new on-campus residence hall in nearly two decades. The new residence hall provides housing for 360 students in a suite-style arrangement. Building amenities will provide students social and study spaces,  music practice rooms, a technology center, a fitness room, and a recreation room.
Video Courtesy of University of Wisconsin Eau Claire
Read more: Groundbreaking launches new residence hall
---
Positively Impacting the Campus Community
The campus community begins with the student, expanding to include buildings that support both student life and academia. Because any addition, renovation or new construction has a lasting and significant impact on a higher education campus, we seek to understand the inherent character of the site, the building, and the people who live there. The essential characteristics of each university or college is different. Learn more about Engberg Anderson's Higher Education Portfolio.