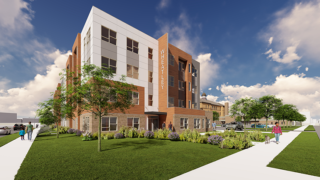 The development will utilize low-income housing and historic tax credits.
The adaptive-reuse of the former Phillis Wheatley Elementary School along with the construction of a new building will bring 82 mixed-income homes to Milwaukee.
Hunt Capital Partners and developer Royal Capital Group announced that the development will be supported by $13.1 million in tax credit equity. Federal low-income housing tax credits (LIHTCs) and federal and state historic tax credits have been allocated for the project.
Located in the Lindley Heights neighborhood of central Milwaukee, the approximately $21.9 million development will have a mix of one-, two-, and three-bedroom units with 67 affordable LIHTC units set aside for households earning up to 30%, 50%, and 60% of the area median income and 15 market-rate units. Seventeen units will be set aside for low-income veterans.
"The Phillis Wheatley Apartments will realize Milwaukee's vision of transforming the site, unused since 2005, into a residential complex with elements that promote healthy living, community engagement, and entrepreneurship," said Dana Mayo, executive managing director at Hunt Capital Partners. "The project will also provide well-deserved housing for veterans otherwise facing homelessness. In addition to a new fitness center, an existing commercial kitchen and café will greatly benefit residents of the project."
Read the full article