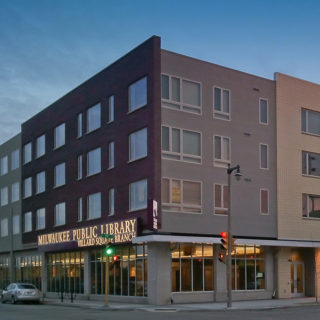 New London Considers a Mixed-Use Library
New London, Wisconsin – Engberg Anderson Partner and Architect, Alexandra Ramsey, spoke to the New London Public Library and Museum Board at an August 15th meeting. The City of New London is currently considering building a mixed-use public library that would combine commercial space and multi-family housing, with the library as the primary tenant. The city's current library serves a population of 12,000 people and has long outgrown its existing space and technological needs.
Read more about the developing story here: http://www.waupacanow.com/2016/09/21/city-considers-mixed-use-library/
---
The library experts at Engberg Anderson recognize that each library is as unique as its community. Each has a different program and budget. Each has a different identity and focus. Yet every library has the power to transform communities and shape lives. With over 135 library projects ranging in size from 300 sf to over 150,000 sf, we can help libraries decide which options will best meet their needs, as well as the diverse needs of the community.
Among our portfolio of mixed-use libraries, the award-winning Villard Branch Library of the Milwaukee Public Library System was a featured case study in the Library Journal, Spring 2012. Read how this future-friendly library combines innovative design with interactive space, accessible technology and multi-functional furnishings to offer a wide range of user services.
Powerful Partnerships: Mixed-Use Development | Library by Design (Spring 2012 Issue, Library Journal)