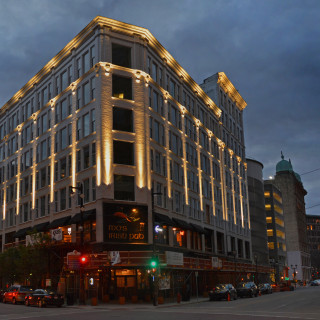 Milwaukee, Wisconsin – The MKE Lofts are gaining recognition throughout the region. The Posner building, a department store in downtown Milwaukee when built, was originally constructed in two phases: the first phase in 1907, with an addition in 1913. Now redeveloped by HKS Holdings, LLC, the building has been converted into The MKE Lofts – 105 luxurious apartments with a vibrant mix of ground floor retail. The project has recently won several notable awards including:
Milwaukee Business Journal Real Estate Awards
The Daily Reporter Top Projects of 2015
Take a closer look Inside the MKE Lofts  at Urban Milwaukee.
The Posner Building
Dig deeper into the the history behind the building
An Extensive Rehabilitation
Listed on the National Register of Historic places and recognized as an historic office building in downtown Milwaukee, the Posner Building went through extensive rehabilitation to convert the old office building into a new luxurious housing option in downtown Milwaukee.
With multiple phases of construction, the existing exterior building envelope was a unique challenge. The new building windows needed to consider the historic value of the building as well as the thermal performance and efficiency. The results are stunning floor-to-ceiling views into downtown Milwaukee.
Housing Diversity in Downtown Milwaukee
The project was financed through a combination of a Historic Tax Credits, a WHEDA Market Rate Loan, a city developer financed TIF, and WEDC Grant and financing from Impact 7. With the assistance of the Wisconsin Housing and Economic Development Authority (WHEDA), the development was able to set aside 20% of the units for individuals making less than or equal to 80% of Milwaukee County's median income. The Historic Tax Credits covered part of the costs of restoring the nationally listed historic structure. 
Revitalizing West of the River
While Milwaukee has seen an abundance of housing projects downtown, developments west of the river have been rare. Many underutilized buildings surrounding the struggling Grand Avenue mall are either vacant or lack public uses. The Posner building was one of the most prominent and historic, a white glazed terra cotta building that had lost some of its sheen in the last 100 plus years. The ground level of the existing building has been occupied by the popular Irish restaurant Mo's Irish Bar; however, the upper seven-levels were only used for storage.
This development has brought a new housing option to downtown, underground parking and new retail tenants. A façade that had been blank for years now glows and has become a statement for the nightlife in Milwaukee and the surrounding area, brightened by the impact of active new residents.