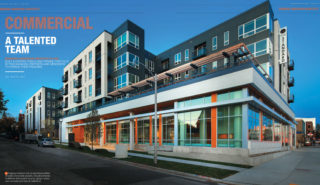 "A Talented Team"
Recognized as a leader in the multifamily housing / commercial housing market, Engberg Anderson was recently featured in the August + September 2016 issue of Modern Builder Magazine.
Our firm focuses on elevating the housing market to provide a variety of options from affordable housing to high-end luxury downtown apartments. The spectrum of housing depends on community needs, the market climate/demographic, amenities offered, sustainable options + building design and materials + finishes.
Each place is unique  ― the expression of its diverse peoples, cultures, environment and history. When we approach a project, we consider how it integrates into the neighborhood fabric and sense of community. From this perspective, we have extensive experience in the design of urban spaces in both the public realm and private developments.
Read the full Engberg Anderson feature article here.
---
About Modern Builder Magazine
Modern Builder Magazine focuses on the current trends of the housing market from single family homes to large multifamily developments, and the success stories of the firms who make them happen.
---