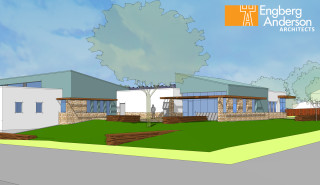 Madison, Wisconsin –At last evening's public meeting, conceptual renderings of what could be the new Midtown Police station were unveiled. The community showed great support and enthusiasm for the project. Plans include a 32,000 sf building made of an off-white brick with metal and wood accents.
Architect Mike Zuehlke, a resident of the area, said the project team considered design and materials used in the surrounding neighborhood to ensure the new station's aesthetic fits in. The plans also preserve a large tree on the property, a concern of some residents, which will provide shade over the planned community room windows. (The CapTimes, April 15, 2016)
The building will also include underground parking for police cars with access off Westmorland Boulevard.
Next steps are to go to review with the Urban Design Council and await funding for an anticipated construction start in 2017.
Read more on the Midtown Police Station at TheCapTimes.
About Engberg Anderson Madison
Engberg Anderson Architects has been active in the Madison area for ten years. Working with the City and the community, we've helped #BuildMadison. Our work in the Madison area primarily includes Corporate, Multifamily and Supportive Housing, Libraries and Academic Facilities.
For more information, please contact marketing@engberganderson.com.
The Badger Herald