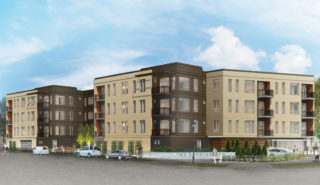 Revitalizing Downtown Port Washington
Endorsing two development plans, the Plan Commission continues to search for the project that meets the needs of the Port Washington community. Located on an abandoned restaurant and a boat-trailer parking lot, the plans proposed by Ansay development could meet the needs of the energized downtown. The building calls for a 44-unit, four-story apartment building with a 50′ x 90′ public green space for local residents and visitors traveling through.
"This looks like something that definitely fits into the area," Alderman Dan Becker, a member of the commission, said. "This is what we called out for. A building like this would be very attractive to millennials." ( Ozaukee Press. May 25, 2016)
Read more about this developement on the Ozaukee Press.
---
About Ansay Development [ People. Partnership. Possibility ]
Ansay Development Corporation is a real estate and investment company located in Ozaukee county. Our firm's foundation is built on the commitment to build lasting relationships with all business partners and clients. Part of our mission is to continue to revitalize the Port Washington harbor by creating a destination that builds on the natural splendor of the harbor's lakeshore.
We are dedicated to strategically and systemically increasing the size of our real-estate portfolio, but each one of our investments is still deeply personal to us.  We are committed to carefully managing each of our real-estate properties and developments with a hands-on style to ensure we meet the specific and unique needs and goals of each of our clients and partners.