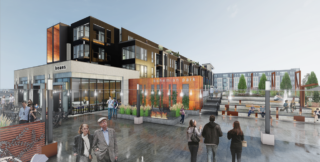 ASHWAUBENON – Plans to construct a second Bohemian Park apartment building received backing March 2 from the village's Site Plan Review Committee and the Plan Commission.
The committee and commission recommended approving an amendment to the project's planned unit development (PUD) height limit and the site plan for a five-story building at the southwest corner of Morris Avenue and Holmgren Way.
Community Development Director Aaron Schuette said the second building to be constructed as part of The Bohemian Park apartment complex requires an amendment to the height limit because the PUD, which governs height restrictions, included a 60-foot height limit.
Schuette said the second building is proposed to have a height of about 67 feet.
"It is one story higher than the existing building, which is four stories," he said. "Building two is proposed to be five stories."
Schuette said the PUD amendment would increase the height limit to 70 feet.
Tim Wolosz of Engberg Anderson Architects said the project owner, Wewerka Group, LLC, said the development, for which four separate buildings are planned, is proceeding as scheduled.
Read the full GoPressTimes article