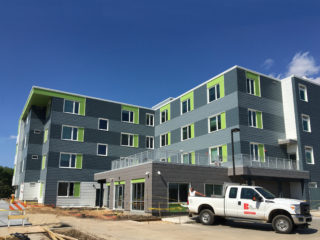 Rethke Terrace is the first step to ending Homelessness
Madison, WI – After 11 months of construction, the Rethke Terrace Apartments developed by Heartland Housing, Inc is now move-in ready for citizens of Madison. Part of a greater initiative for the city, this development is the first of five new permanent supportive affordable housing sites in Madison.
The project includes 60 residential units, offices for service providers, a community room and a teaching kitchen. The building features sustainability in both design and operation of the building with stormwater management, a second floor roof garden and perhaps even an urban chicken coop.
The opening of Rethke marks the first tangible results of the city's permanent supportive housing initiative, also known as housing first, the philosophy that puts homeless people into housing first — then connects them with services to help them do whatever they need to do to live independently, from training for a job to getting help for substance abuse or chronic health problems.
(Housing First approach to homelessness gets nod in the New Yorker. The Cap Times. Sep 20, 2014.)
Learn more about Rethke Terrace Apartments on The Cap Times and how it's changing the city and giving people a place to call home.