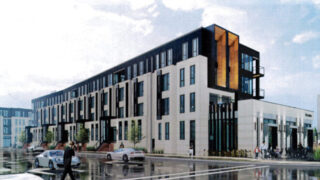 ASHWAUBENON – The village's Plan Review Committee and Plan Commission discussed earlier this month a revised site plan of a second Bohemian Park apartment building, which includes one less floor than originally planned.
The second building, to be located at the southwest corner of Holmgren Way and Morris Avenue as part of The Bohemian Park apartment complex, received village approval in March to be constructed as a five-story, 69-unit building.
However, Community Development Director Aaron Schuette said Engberg Anderson Architects, as the applicant for the owner, Wewerka Group, requested the revision to reduce the building to four stories and 52 units because of an increase in building material costs and other factors.
Schuette said the second building will be similar in color and design to the first four-story building.
"From a design standpoint, you won't really notice anything different, except for the one floor being out," he said.
Schuette said the building will be approximately 54 feet in height and include apartment units, underground parking for the tenants and a 1,780-square-foot retail space on the north end of the building, as well as an outdoor common area for residents, customers and the public.
"Everything still remains the same as it was originally approved," he said. "It's just, instead of a five-story building, it is now a four-story building."
Mariana Arena, an architectural designer with Engberg Anderson Architects, said it would cost around $21 million to construct a five-story building with a basement, and lowering it to four stories would reduce the cost by about $4 million.
Read the full article here