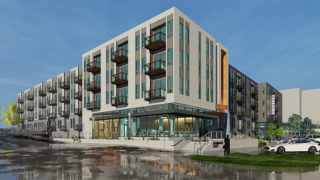 A $24.7 million development with affordable apartments and a commercial kitchen for classes or young companies gained a design endorsement on its way to a possible July construction start on North Avenue in Milwaukee.
That four-story building at 1136 E. North Ave. would have 91 apartments, including 77 for residents earning at most 60% of the area's median income level. A first-floor space would have a large commercial kitchen and enough space to hold classes or other programming.
Sig Strautmanis, of co-developer General Capital Group, said the kitchen area would be available free-of-charge for programs led by area nonprofit organizations. It could host free cooking classes or provide space for growing local food companies, for example, he said.
"We're going to be relying on the nonprofits and organizations out there seeking the space, to use to space," he said. "We're looking at it as a cooperative situation."
Read the full article on Milwaukee Business Journal