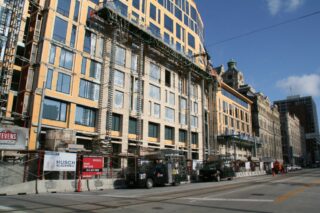 New building begins to look more like its 140-year-old neighbor.
The Huron Building, a modern office building in a block filled with historic buildings, is starting to look more like its neighbors.
That's because workers have begun installing a stone cladding that matches one found on the adjacent Mackie Building.
While over 140 years separates the construction of both buildings, the stone comes from the same quarry in Ohio.
Located at 511 N. Broadway, the new building will be home to law firm Husch Blackwell.
Developer Joshua Jeffers told Urban Milwaukee Friday that work is approximately two months ahead of schedule. The building will be substantially complete by late July or early August with Husch Blackwell's space built out by October.
J. Jeffers & Co. is developing the 11-story building, which will not only link a number of projects along E. Clybourn St., but help tie the Historic Third Ward to East Town. A streetscaping project, funded by increased tax revenue from the development, will further enhance the connection with lighting under Interstate 794…
Read the full article on UrbanMilwaukee.com