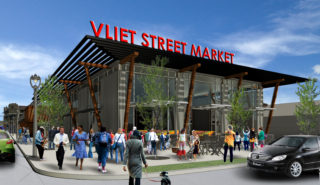 Vliet Street Charrette
In April 2016, the UWM School of Architecture (CDS), local community leaders and potential investors worked together as part of a design charrette for the near-westside neighborhood in Milwaukee. The charrette focused on the revitalization of the growing area and to brainstorm a viable solution that would have a positive economic impact on the community.
Engberg Anderson Architects was among six other architecture and planning firms during the event.
Proposed Vliet Street Market Concept
Located on Vliet Street and N 35th, our firm focused on creating a community destination that would promote connectivity and  serve the needs of the neighborhood.
Based on public input and a past market study, the community expressed a need for a grocery store in the area.  After a half day charrette, our architectural team led by Principal, Timothy Wolosz, proposed a mixed-use development featuring a lively street market/grocery store. On a sunny afternoon, the northwest corner of the market would spill out into the open green space inviting people to a fresh farmers market or other public events. Complementing the development, the secondary use of multifamily housing, contributes to the critical mass of the facility and provides a significant tax base.
Given the ethnic diversity and the entrepreneurial spirit of the neighborhood, a public market offered great flexibility and opportunity – not only economically, but socially.
Read more about the Charrette at Urban Milwaukee