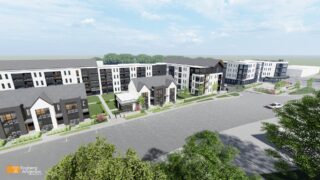 HKS Holdings has until October to pull building permits for 177 planned West Bend apartments under an agreement city officials approved to provide up to $5.4 million in city financial support.
HKS Holdings is partnering with the city for the new market-rate apartments in two buildings at North Main and West Washington streets. Plans also call for a corner restaurant space with outdoor seating.
The buildings would come online at least by mid 2023, according to a development agreement West Bend's Common Council approved Monday. The new apartments would activate a former brewery property that has been vacant or underused for decades. The city would use property taxes both as incentives to Milwaukee-based HKS Holdings, and for other infrastructure work in the downtown West Bend area intended to support ongoing efforts to attract and retain businesses.
Read the full article on Milwaukee Business Journal