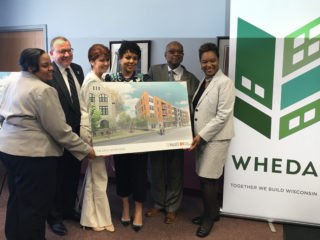 Every Step is a Step Forward for Bronzeville
Milwaukee, Wisconsin – The Wisconsin Housing & Economic Development Authority (WHEDA) awarded over $14 million in low-income housing tax credits (LIHTC) to fund housing developments across Wisconsin.
"Affordable housing and economic development go hand in hand to build strong neighborhoods," said Lt. Governor Kleefisch. "The developments awarded tax credits today will provide new housing opportunities and spark economic growth in our communities. These valuable tax credits make it possible for private developers to finance vital projects they wouldn't ordinarily be able to do on their own." (WHEDA Awards $14 million in Low-Income Housing Tax Credits Statewide, May 2, 2016.)
Engberg Anderson Architects has been working with Maures Development on the Historic Garfield site that sits on the cross streets of 4th and North Avenue in the Milwaukee neighborhood of Bronzeville. This underutilized area of the neighborhood is now beginning to see development it deserves. In addition to bringing affordable housing to the community, this development is supporting the return of the American Black Holocaust Museum to the community.  The museum has been a virtual museum since 2012.
(Feature image from left to right is; 6th District Alderwoman Milele A. Coggs; Commissioner for the City of Milwaukee, Rocky Marcoux; Lieutenant Governor of Wisconsin, Rebecca Kleefisch; President of Maures Development, Melissa Goines; Executive Director of WHEDA, Wyman B. Winston; State Senator, Lena Taylor.)
---
About WHEDA
WHEDA was created in 1972 by the Wisconsin Legislature to provide low-cost financing for housing, small business and agricultural development. Since 1972, WHEDA has financed more than 77,000 affordable rental units, helped more than 120,000 families purchase their first homes and made more than 29,000 small business and agricultural loan guarantees.