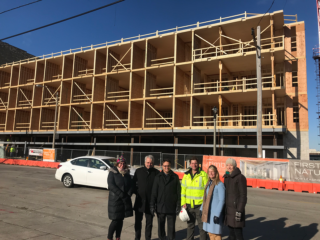 Milwaukee's first building created with an unusual construction method, using high-grade timber instead of steel for its frame, will be completed next spring.
Timber Lofts, a 60-unit apartment building with ground-floor retail space, is under construction at 300 W. Florida St., in Walker's Point.
The four-story building, with studio, one-bedroom and two-bedroom units, is being constructed with a technique known as mass timber, or cross laminated timber.
That process uses layers of wood pressed together to create columns, beams and other building frame components.
Developer Ann Pieper Eisenbrown chose mass timber for the project because it's a more environmentally sustainable method than using conventional concrete and steel frame construction.
Also, the exposure of timber columns, beams and ceilings provides a distinctive look and a warm interior feel, said Eisenbrown, who operates Pieper Properties Inc.
Timber Lofts, with studio units starting at $995 a month, was designed by Engberg Anderson Architects. Catalyst Construction is the builder.
Read the full Milwaukee Business Journal article