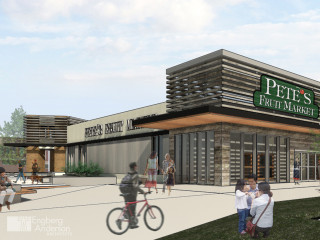 Milwaukee, WI – With the announcement of a new Pete's Fruit Market location opening in the Bronzeville neighborhood in Milwaukee, the community will finally see the development it deserves.
"The neighbors made it clear they wanted a full-service grocery store here, and we are so proud and happy today," Alderwoman Milele Coggs said.  "With Pete's Market coming to Bronzeville, the neighborhood gets what it wants." (as quoted in Urban Milwaukee on April 3, 2016)
Read more at Urban Milwaukee
In addition to Pete's Fruit Market, the firm is  working on other developments in Bronzeville, including the Historic Garfield School.
Engberg Anderson Architects continues to help build Milwaukee neighborhoods by lending a helping hand, participating in community development charrettes and by providing a building that will meet the needs of the community. The project is being led by Milwaukee developer, Vangard Group, LLC.
---
About Vangard Group, LLC
Vangard is a leader in the real estate development and business development industries. Headquartered in Milwaukee, Wisconsin Vangard specializes in joint-venture opportunities. Vangard owns, develops, and manages retail, residential, and commercial projects. Vangard also provides the expertise and experience to enhance the viability of existing and start-up businesses. We are a creative group, active in the innovation and application of new business concepts and development techniques. We have been able to continuously execute on our proposals, resulting in success for our partners, clients, and communities.