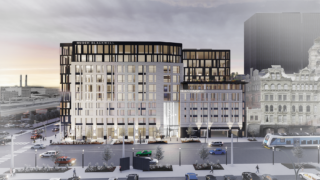 11-story office tower went through complicated, four-year design process.
Urban Milwaukee, By Jeramey Jannene – Apr 17th, 2019
Another surface parking lot is about to bite the dust.
Construction work is about to begin on J. Jeffers & Co.'s Huron Building at 511 N. Broadway. The 11-story office building will be anchored by law firm Husch Blackwell when it opens in the second half of 2020.
The building will rise from what is currently a 7,200-square-foot surface parking lot at the northwest corner of N. Broadway and W. Clybourn St. The name is a reference to Clybourn's prior name as Huron St. The name was suggested by a Husch Blackwell employee.
The law firm will relocate 180 employees from its offices at the Cathedral Place office tower to the new building. The firm, which has approximately 100 attorneys and paralegals in Milwaukee, was formed by the 2016 merger of Husch Blackwell and Whyte, Hirschboeck Dudek. The latter has been located at Cathedral Place for 15 years, which is the agreed length for its lease with J. Jeffers & Co….
Urban Milwaukee Full Article