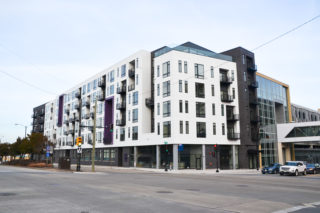 Deer District should be busy at this point in the year. The Milwaukee Bucks should be heading deep into the playoffs, bringing capacity crowds to Fiserv Forum. Milwaukeeans should be embracing the warm weather and packing the beer garden, plaza and bar around the arena.
The COVID-19 pandemic has put all that on hold.
But owing to the mixed-use nature of the area, the place isn't a complete ghost town. Five Fifty Ultra Lofts, an 112-unit apartment building, opened at the west end of the district in late 2019. It's one of the first pieces that wasn't publicly subsidized and isn't reliant on the arena for business.
Developed by Royal Capital Group, the project was originally announced in February 2017 and had a projected completion date in 2018. But ground wasn't broken until May 2018, with an occupancy permit ultimately issued in October 2019…
Read the full article on Urban Milwaukee