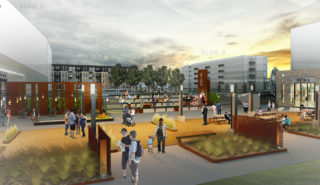 Ashwaubenon, Wisconsin – The groundbreaking of Bohemian Park, a multi-phased, luxury apartment community, minutes from historical Lambeau Field and the new Titletown District, took place on Friday, December 22, 2017 in the Village of Ashwaubenon.
The ceremony initiated the construction of a 50-unit luxury apartment facility, which is phase one of four for Bohemian Park. Phase one is expected to be complete in early 2019. Residents who plan to call Bohemian Park home will have access to a variety of amenities including an outdoor courtyard, a resident clubhouse, and enclosed lower-level parking. The overall site is highlighted by an attractive all-seasons and retail pocket park on the far Northeast corner, which promotes an urban neighborhood experience and also creates a retail destination for residents and the public. The Ashwaubenon development will be a showcase for living options in the Village.
"We at United Development are excited to break ground on a bespoke addition to Ashwaubenon Community's," said Elizabeth Wewerka. "We sincerely thank the Village of Ashwaubenon and the Wisconsin DNR staff for all of their support to help turn our project into reality."
The apartments themselves will be a mix of one-bedroom and two-bedroom options. Fused with modern yet elegant finishes, spacious closets and private balcony/patio areas. Leasing will begin spring of 2018.
---

About United Development, LLP
Since 1983, the United Development team has planned, built, and managed residential and commercial properties throughout Wisconsin and Michigan. Our goal is to set the standard for luxury living in northeastern Wisconsin.
About Bayland Buildings Inc.
Bayland Buildings, Inc. is a 100% employee owned, Commercial and Agricultural General Contractor founded in 1991. Built on a simple principle of providing customers with a seamless experience, without compromising overall quality. Bayland is recognized as one of the most competitive and respected building firms in Wisconsin and currently employs over 200 dedicated people.
Apartment Complex Breaks Ground in Ashwaubenon