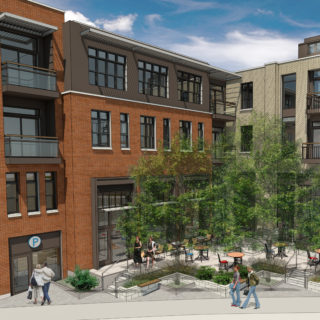 Wauwatosa, WI – Harmonee Square is slated to break ground this month. Led by the developer team Horizon Development and Luther Group, the project will include 30 apartments and 7,500 sf of ground floor commercial space. Harmonee Square will provide a new living option for Tosa residents and will also bring new energy to downtown.
Read more at BizTimes Media Milwaukee.
---
About Horizon Development
Horizon Develop Build Manage was established in 1984 as Horizon Investment & Development Corp. by Chuck Heath and his partners as a real estate development company. The company developed a multitude of properties including retail, commercial, multi-family residential, senior residential and land developments; placing emphasis on senior housing as its primary product line. Horizon offers a full service development approach and treats every project as if it was our own. All projects follow a comprehensive development checklist ensuring schedule efficiency, team consensus, and overall project feasibility.
About Luther Group
Luther Group specializes in achieving client, investor, and company goals by providing results-oriented, professional real estate solutions. They provide a range of services, including program management, brokerage, property management and at-risk development.