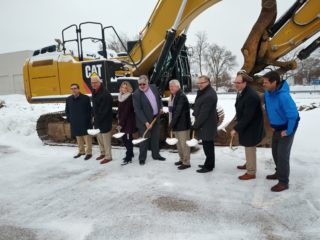 By: Michael Leischner
STEVENS POINT, WI (WSAU) — A ceremonial groundbreaking- rather, snow-shoveling, was held Monday in downtown Stevens Point for a first of its kind senior housing development.
General Capital Group will build an 88-unit complex in a current city parking lot at 3rd and Water Street aimed at helping seniors age in place together with easy access to all the downtown has to offer.
"What we do too often is we separate seniors from children, from families. The idea of living in a real, true community is when you have everybody. This involves seniors," said Sig Strautmanis with General Capital. "What we've found is that active seniors want to get out and enjoy life, walk to places.
"They want to go to businesses, they want to hang out," he added.
Read more at wsau.com