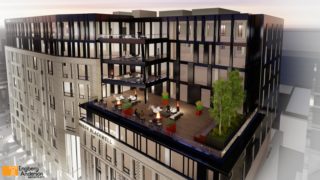 More Balconies, Windows for The Huron
Husch Blackwell will have a balcony on each of its floors in the 11-story office building.
While it's already under construction, J. Jeffers & Co. is continuing to modify the design of the 11-story Huron Building at 511 N. Broadway.
The latest changes come in response to a request by anchor tenant Husch Blackwell, which is leasing 71,000 square feet in the building.  The law firm will have three exterior balconies, each just under 700 square feet, and larger windows as part of a plan approved Monday by the Historic Preservation Commission.
The three balconies will be set back from the street and sit above an outdoor terrace on the building's northeast corner. All six floors with office space in the building will now have an outdoor balcony. (The other five floors will be used for commercial space and parking.)
Urban Milwaukee full article