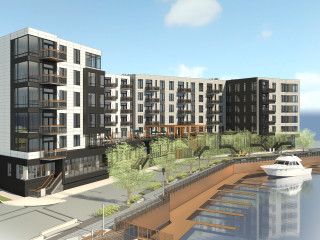 January 26, 2016 – Milwaukee, WI – Estimated to be a $58 M housing development, the North End Phase IV broke ground during this cold month of January. Accompanied by ONE (phase I), Portrait & Silhouette (phase II) and Aperture (phase III), it will be the last of the buildings developed for the North End campus.
Read more here: Phase Four of North End Underway
---
June 30, 2015 – Milwaukee, WI – Downtown living at its finest! Following the success of One at North End and Phase II & III, North End Phase IV is anticipating early fall construction. The fourth phase includes a six-story apartment structure on vacant land between Water Street and the Milwaukee River, south of the completed buildings. A second building would replace a parking lot on the other side of Water Street near Milwaukee Street.
Read more here: The North End Phase IV – Milwaukee Business Journal