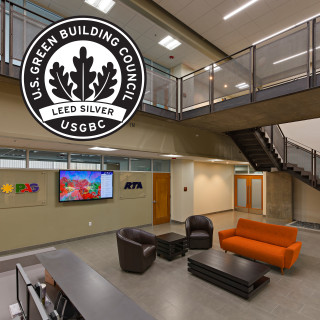 Tucson, AZ – In 2014, the Pima Association of Governments (PAG), designed by Engberg Anderson Architects, achieved LEED-Silver for Commercial Interiors for their new office space.
PAG is the anchor tenant for One East Broadway, a new, urban, mixed-use development in downtown Tucson also designed by Engberg Anderson. Seen as a catalyst for green building, the build-out of the new office space for PAG was featured at a "Heavy Medal Awards" luncheon hosted by the USGBC Arizona Chapter in February 2015.
The project features a variety of sustainable materials and systems including:
Walkability: With a zero lot line, the building fills the hole at 100% of the available footprint. Retail spaces along nearly every inch of sidewalk take advantage of foot traffic and visibility.
Ecological Stewardship: Not only do these trees harvest water from the roof through the gutter system, the innovative curb design captures extra rain run-off from the street as well – helping balance the overall ecology of the surrounding area.
Energy-efficient Lighting: All lighting inside and out is LED, which uses 75% less energy and lasts 25 times longer than traditional, incandescent lighting. (Including the funky green bars that help disguise two floors of parking above the retail.)
First Impressions: Looking up as you enter the main lobby, three different types of LED light fixtures form a star-like constellation that reflect the wide open night skies of Arizona.
Ensuring Sustainable Design: Through a process including energy modeling and an integrated team approach, two levels of office space on floors four and five became certified LEED-Silver for Commercial Interiors.
Social Responsibility: Both floors are dedicated to the Pima Association of Governments (PAG), a quasi-governmental agency that supports regional planning efforts to enhance mobility, sustainability and livability.
Locally-sourced: A local, custom metal fabricator carefully crafted the impressive stair
and other details that lend an industrial feel to the two-story space.
Energy-efficient Cooling: Movable walls and a Variable Refrigerant Flow (VRF) system – 25% more efficient than traditional – allows PAG to cool just the spaces being used.
Mixed-Income Residences: A mix of studio, one, and two bedroom units were made available on the sixth and seventh floors at both market-rate and affordable-rate.
Capturing Advantages of the Site: Taking advantage of Tucson's mild climate and inspiring mountain views, every unit enjoys floor-to-ceiling windows and a private patio or terrace.
Integrated Building System: Also motivated by Tucson's climate, the building envelope is well insulated with an exterior wall double the minimum r-value, thermally broken window frames and low-e, insulated glass.
Renewable Energy: Rooftop solar panels provide renewable energy for residents in the form of solar hot water. A renter's average monthly electric bill is $50/month.
Vist the PAG LEED Scorecard to see how it ranks!
---
About Engberg Anderson Architects
Founded in 1987, Engberg Anderson Architects is an architecture, planning and interior design firm whose work supports activities and institutions at the heart of a vibrant culture. With offices in Milwaukee (WI), Madison (WI), Chicago (IL) and Tucson (AZ), the firm has experience in a variety of building types including housing, mixed-use, libraries, cultural, corporate, healthcare, senior living, historic preservation and sustainable design.