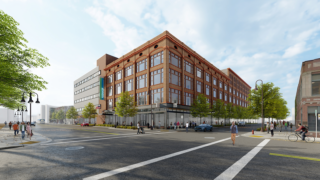 Construction of the $105 million ThriveOn King project along King Drive in Milwaukee's Halyard Park neighborhood has been pushed back to February, due to delays stemming from the COVID-19 pandemic.
ThriveOn King is the name of the planned redevelopment of the former Gimbels-Schuster's building at 2153 N. Dr. Martin Luther King Jr. Drive.
Milwaukee-based project developer Royal Capital Group previously stated that construction was to begin this spring. It was pushed back to fall, and now to winter, due to "ongoing challenges of the pandemic," said Kevin Newell, founder and chief executive of Royal Capital.
Read the full article on BizTimes Milwaukee